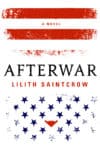 I began gathering supplementary materials1 for Afterwar in late 2015; work commenced on the book in earnest in March-April 2016. I knew I was going to write it, but not how it would be received or even if it would ever be sold. It's too outlandish, I thought. I've been saying this is where Fox News and the like is going to end up for a decade and a half, I thought.
Much to my surprise, my editor at Orbit wanted the book with a white-hot passion, and since I trusted her implicitly to have my back–to let me write the book that needed to be written without committee interference from internal groups that would want it watered down–I went for broke. I tore my heart out, and ate the bitter organ whole, retched it free and did it again.
And I pestered. Goodness, how I pestered. Knowing more than a few vets, I bought drinks, bought lunches, went to coffee, peppered them with questions. "So…if you were running an insurgency in the American Southwest…okay, so how successful is asymmetric force really when you're the boots on the ground…look, I need to know how far a Humvee can actually go in offroad conditions without refueling…so, what did it smell like? Really?…what's the one thing you were always short of, in combat…?" You get the idea. I'd start out with questions, and then I did what any writer who wants to learn does.
I shut up.
Once people know you're sincerely interested in them and their lives, they will talk endlessly, and with active listening you will find out more than you ever dreamed. At that point it was simply a question of who had the better bladder, since a loo trip not only breaks conversation but also breaks "the seal" and you have to pee every five seconds afterward. (Or so it seems.)
None of them asked what my book was actually about. Most of the time I had introductions from other people they'd served with, and once word got out that I was trustworthy, gentle, and genuinely interested in their experience I had more contacts than I could ever plumb and the social credit to spend on slightly more outré questions. "Say you're behind enemy lines and on your period, what's the planning for that?2 How common is diarrhea in combat?3 If you could only take two weapons with you to operate in unfriendly territory, which would you? What kind of coping mechanisms have you seen others use under combat stress?4"
My other research was not so nice or so enjoyable. I've spent years reading about the Eastern Front in WWII, and about the occupations of Ukraine and Poland by several successive totalitarian waves. It's been an interest of mine since reading Antony Beevor's Stalingrad because, I thought, there was no way I would ever write about something so brutal and horrific. Having something to read that, even though awful, wasn't grist for the story-mill, was necessary in order to give my brain a break.
Perhaps the Muse was precognitive, and prepared me well beforehand. Authoritarian and totalitarian regimes follow the same damn playbook, with only small adjustments for culture and territory. Plus, I had taken a bath in American Civil War history, and still picked up logistical and other studies, just on the principle that it's always good to know how an army will feed itself on your home territory.
Everything I'd been reading and thinking about for years crystallized. Afterwar took on a life of its own.
And then, the election happened.5
I saw the beginning stages of my private nightmares playing out in realtime. I don't think I've quite recovered from that, but I had other problems as well.
Not content to reflect current events, Afterwar was about to get blindsided by publication woes as well.
To be continued…