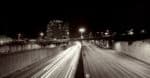 Days and days of heat, the weather report says. Which means a lot of closing up the house and keeping the fans on. It's not likely to cool off enough to make a difference at night, either. Miss B is sacked out on my office floor, worn out after a moderate morning run. Said run had to be uncaffeinated, because I rolled out of bed late and had to get us outside before the heat became unbearable.
My mood is perhaps best described as "sharp, don't touch." I have shaken off the numbness and now I am firmly in the anger stage. I am filled with fumes, and any spark will do. I am holding myself gingerly, my internal grip strong and severe, so I don't snap at anyone I care for.
There is no Trundles asking to bask on the deck for fifteen minutes before being ushered inside to flop on cool tile. No Trundles snoring blissfully among my pillows or grousing because it's too warm and sprawling in the hall. Come dinnertime, he's not snuffling in corners or underfoot as I cook–Miss B can't take up all his kitchen space and hers too. I am not in danger of tripping every third step between the two of them, and it's strange. There is so much room.
I spent yesterday in a blaze of cleaning and rearranging furniture. Apparently grieving fills me with the desire to dust, hoover, rearrange. We also got some more concrete laid in the backyard–with no Trundles underfoot or investigating the humans' fascinating activity for signs of something edible, it went a little more quickly than usual. His busy self was a part of everything that occurred chez Saintcrow; Miss B is content to supervise from any handy promontory, as long as I'm in sight, but Trundles wanted to be Involved.
His crate is folded up and in the garage. I didn't have the heart to clean it. His bedding, however, is laundered and neatly folded. At some point, this week or next, I will pick up his ashes and bring them home, settle them among my pillows, and let him sleep on my bed for as long as he likes.
I told myself that if I could just get through yesterday's cleaning, rearranging, laundry, folding, watering, and everything else, I would be okay. Not okay-okay, but…okay enough.
I'm not quite sure if it was true, but having the furniture moved helps. I am not looking at Odd's favorite nesting-spots and feeling the black ball of tears rise in my throat. Grief is a ball bouncing in a box. Part of the gauntlet grip I hold myself in is immobility so the pain-button won't get punched. It only halfway works, but it's better than nothing.
At least I can settle and write today. I am not staring while my fingers idly work at the keyboard, typing and deleting random, stinking sentences. At least while I'm working I'm thinking of other things. The work is not a panacea, but it is a true companion. Sad? Write. Mad? Write. Grieving? Write. Frightened? Write.
So today, gently, I will. Soon I'll tell you guys about the new birdfeeders, the pole that holds them, squirrels, and Crisco. It's a funny story; it would probably have been funnier with Odd around. But squirrels–and time–stop for no man, and no bulldog either.
Over and out.