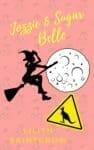 We're about a week away from the release of Jozzie & Sugar Belle, also known as Scrotum Search (I couldn't use that as a title, though God knows I wanted to) and "that damn nutless kangaroo shifter story". The print edition is available, ebook all set and pretty for release on the tenth, and I am quietly giggling each time I think about it.
I wish I was better at writing humor. I'd love to be able to consistently write comic stuff; it's way harder than angst and I'm just generally not a funny person. The things I find hilarious tend to be somewhat macabre, which is, I'm sure, a drawback.
Last week was somewhat terrible. Finishing several large projects one-after-another caused a sort of blowback; I thought I was going to get Harmony revisions done and also get serious wordcount on HOOD. Neither happened. Instead a black hole threatened to swallow me, and I was on the event horizon (everything turned grey, light struggling to escape) for a while, skating around and grabbing for handholds. Both kids reminded me it was okay to feel tired, and we talked a lot about how managing your own energy and self-care are sometimes the most difficult things. It's good to be able to discuss adult coping skills with both of them, and show them that it's a process rather than a destination.
I used to think it was bad for them to see me struggle, but as they've gotten older, it's opened up chances to talk about things like burnout and respecting your own limits. Both kids seem to have healthy boundaries, so perhaps my own struggle to acquire some was useful not just to me.
In any case, I got enough sleep and woke up at a reasonable time this morning. There's a run to accomplish today, and it's back into Harmony revisions. I suppose I'm just annoyed at the thought of ripping apart the last third of the book and drawing out the crisis for a few more chapters. I think when I was finishing the zero I got tired, and who wouldn't after 100K words? Part of revision is to fix that very thing. It just seemed insurmountable last week, though I knew exactly what needed to be done.
So I'm back on the horse, and the world has color and form again. Odd Trundles is sprawled in his bed, snoring with a vengeance to make up for lost sleep, since he was (the horror!) bathed as is usual every weekend and it set his nap schedule back something awful. B is sleeping too, but her nose is resting on my left shoe so she cannot possibly miss me standing up and moving away to go on a run. She's determined not to be left behind today–poor thing, as she gets older she can only go on short, slow runs. I work a lot more of those into my schedule so she gets the exercise she needs without going overboard.
I suppose I should wake her up and get going. Recovery is okay–I got a lot of reading done–but now it's time for work again.
Over and out.