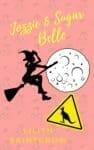 The paperback edition of Jozzie & Sugar Belle is now available! I wish it was possible to do preorders for paper, but oh well. Preorders are live on the ebook editions, it will have to do.
In other news, the Amazing Stories submissions system seems to be fixed, but I wouldn't submit to them after this whole folderol. Sanford's Genre Gossip column is a fabulous resource, and Amazing's Steve Davidson's response to his reporting was…well, let's be charitable and call it "ill-considered". I wouldn't trust my work to an editor who behaved that way, frankly. I would, however, recommend Sanford's column to anyone interested in selling to genre markets, and would even go so far as to recommend dropping some cash in his Patreon.
Anyway. It's a bright day; there won't be any rain while running this particular morning. Which is a shame, summer downpours are fun. I suspect, however, there will be bees. Lots of bees. They seem to find my hair as enticing as ever.
Today is also for more Rattlesnake Wind revisions. If I can get those done before the end of the month I'll count June a win. After that, Harmony revisions need to be done, serious work on comic book scripts and serious wordcount on HOOD as well, and once I get the Harmony stuff crossed off I can shift to prepping Atlanta Bound for publication in October-November and beginning revisions on the next Steelflower book.
Of course, wouldn't you know it, I look at that mountain and want to crawl into a hole. The avoidance stage, added to bottoming out over the past few weeks, is upon me. The lists break everything up into manageable chunks, and I should just put my head down for a while and work. The trouble is, I keep wanting to glance at what's upcoming so I can plan, though the plan is already in place, and the paralysis of so. much. to. do. overwhelms me.
The writing is good. it's the other parts of the process that exhaust me. Except for when a zero draft spikes for the finish and the writing wrings me out like a dishrag. One can't ever win.
Don't mind me, I'm just complaining into the wind. There are children to hug, dogs to pet, a run to get in, enchiladas to make tonight, and plenty of work to do. It's like heaven, and here I am bitching. Sometimes, though, a little bit of bitching makes you appreciate just how good things really are.
And with that, dear Readers, I'm off for a run.