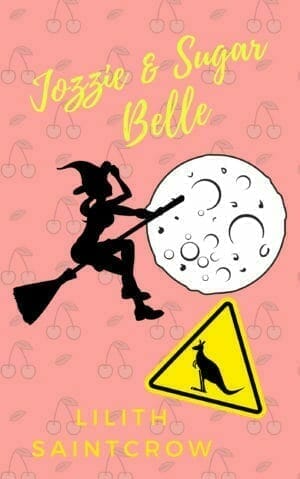 I spent the weekend getting Jozzie & Sugar Belle–that infamous "nutless kangaroo shifter novella"–up for preorder. I didn't mean to, mind you, I thought I'd bring it out in October, but it was so fun once I started the prep I decided a July release would be fine. I'm pretty sure nobody will buy it, but it made me laugh until my belly hurt, so I'm going to release it into the wild and see what happens.
There were also plenty of housecleaning chores, and the Little Prince is out of school for the summer. He attended a friend's birthday party, and came home exhausted. I gather there were at least six teen males stuffed into one house, and the gaming was particularly fierce. (Those parents must be saints. Good heavens.)
So…it was a busy weekend, and finished off with thunderstorms Sunday evening. Miss B came slightly unhinged–she does not like thunder–and had to have half an anti-anxiety tab. Of course Odd Trundles was oblivious, until a strike less than three miles away gave forth a peal of thunder that came in my office window and startled him a bit. I closed my window, but he was already locked on BORK BORK BORK, so it took a little while to get him calmed down. By the time he did, the tab was working for B, and they both slept peacefully while the sky-gods battled.
I love storms; we don't often get them here. Yesterday was strange because the thunder didn't stop after one or two halfhearted rumbles. It was a proper, honest-to-goodness summer storm front, and the flashes and rumbling were almost constant whenever a cell moved overhead. It was glorious, but I'm kind of glad it's over. This morning's run, as a result, was somewhat steamy and sticky. I don't mind the bees catching a ride in my hair, or the metallic-looking ones who want to drink my sweat–I mean, I'm producing it, they might as well get it while it's there–but my eyes were watering, which happens on some runs, and the sweat bees decided that was MANNA FROM HEAVEN. Crawl on my arms, hang out in my hair, that's fine, but they were going for the eyes and that was not fine by any stretch of the imagination.
In any case, I returned home sopping wet, and there were (miraculously) no casualties. B, glad to work off her fidgets, was a right little snot all the way through, busily trying to herd me in every direction except the one I wanted to go. She keeps thinking she has a vote in our route.
Nothing could be further from the truth.
Anyway, she's sacked out in the hall, napping the nap of the fully justified, and in a little while I'll roust both her and Trundles for his afternoon constitutional. He also gets an epsom-salt paw soak and I am kicking around the idea of bandaging said paw with a clean white sock and tons of antibiotic cream.
I'm sure that will go over well.
In any case, now that preorders are well underway, I can turn my attention back to HOOD and Harmony. And oh look–are those edits in my inbox? No rest for the weary or the wicked, and the birds are storm-flittering outside as if the weather's going to give us another round. Plus, a couple squirrels seem to have taken up residence in the apple tree outside the dining room window.
I'm sure that will end well…