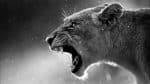 I haven't been able to drink alcohol since the stomach flu, and good gods above, do I ever miss it. It's not that I can't function without, it's just…man, getting to cocktail hour and pouring myself a measure to celebrate getting through the day and take the edge off my nerves was a welcome ritual. Now I'm doing things like stretching and drinking ice water, and it's just not the same. Sure, I'm healthier and all that but I would love a little fuzzy soft-focus come 5PM.
I hadn't realized how much that small ritual was a signal for me to relax and let the end of the day proceed, to look over the day's work and fix egregious typos. It's also nice to just let the story sink into the bottom of your brain and turn the entire problem of what comes next over to your subconscious. Those giant engines below the floorboards need something to do while I'm sleeping. Left to themselves they just come up with nightmares, and while those are sometimes instructive, they're not terribly useful.
Sometimes I think one's entire life is seeing how fast a primate can come up with new rituals in changing conditions.
Anyway, I took most of yesterday off since Tuesday ended with finishing the first revision of Atlanta Bound. That was a monster of a revision because I'd written the zero so lean and at such a furious pace, moving from handhold to handhold. Crossing that particular task off my list was extremely satisfying. Trying to unplug and chill Wednesday was…not as satisfying. The flywheel inside my head, still spinning from the Afterwar release and the revision of The Maiden's Blade under a severe time crunch, ramped up again to get through another revise, and didn't want to slow down or stop. The knowledge that I'm courting burnout if I don't schedule in and force myself to take recovery time is a very thin rail to keep me plunging off the cliff, indeed. I itch under my skin if I don't write, and I have about twenty-four hours before the discomfort becomes acute and I must write or begin scratching, snapping, and sparking.
So today I took my sweet time getting out the door for a run, and dawdled on the way back with Miss B, who was ecstatic to be rambling New Places. I have subscription stuff to send out, that will eat up about an hour.1 I'm allowed only a little bit of work today, but it's going to be on Robin Hood in Space, which I'm tentatively titling HOOD.
Man, I can't wait to start playing with the genre conventions of that particular tale.
There's also a podcast interview scheduled for this evening2, so I wouldn't be able to imbibe anyway. I miss the habit of relaxation and I joke a lot about writers having to fucking drink to put up with all the bullshit in publishing; maybe I should look into edibles instead because they're legal in my state.3 Christ knows the bullshit isn't going away anytime soon. Only the coping mechanisms change.
And now, having thoroughly depressed myself with that last observation, I'm off to do some formatting. Catch you later, alligators.