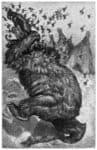 Late Friday evening, I compiled the first draft of The Maiden's Blade into a Word doc, eyeballed it for formatting…and sent it off to editor and agent. Consequently, I spent the weekend twitching, desperate for something to slow down the flywheel inside my skull. The kids flat-out told me I wasn't allowed to do anything resembling work; I gather I looked a wee bit haggard.
Well, you know, more haggard than usual.
So there was a lot of cleaning, especially in the kitchen. Since the dishwasher seems to be settling in all right (thank the gods) I decided it was time to do the regular spring cleaning. Even the kids got in on the act, mopping, shaking rugs, finding things to tidy all over the house. Come Sunday afternoon, we could all achieve our liquid forms in various parts of the house and settle to reading or video-gaming, which was quite pleasant. The tidiness won't last, of course, daily living (not to mention dogs) takes care of that.
But it's nice while it endures, and the fact that I didn't have to do it all myself is golden.
The Little Prince is attempting a Narnia read-through. So far, he's in the wilds of The Magician's Nephew, and he can't get over how creepy Uncle Andrew is. "All I want to know is where's Polly, and this guy has cocoa powder in a box and won't tell me!" he fumed at the dinner table last night, and I just kept telling him, wait until you get to the White Witch, my son.
We are also the (proud?) owners of a Cards Against Humanity set, and I'm contemplating inviting a few people over to play. I'm not social even at the best of times, and I hate competitive games1 but getting a bit tiddly2 and putting together several filthy MadLibs with people whose verbal agility and sense of humor are just as hyperactive as mine sounds like a great time.
And now that I'm not pushing to heave this bloody epic fantasy out of my head posthaste, I might even have some energy left over. (Maybe.)
The big project this week is finishing the top-to-bottom first revise of Atlanta Bound; then it's on to revising a YA I wrote about getting enfolded by a cult. The latter needs its crisis to be drawn out a little more; it chose to come out in a tight first-person POV and by the end of it (120K words, I think?) I was tired, tired, tired. I'm pretty sure nobody will buy it, since my YAs feature kids who cuss and suffer things I did growing up, but eventually it might see the light of day elsewhere. The thing after that on my big to-do list is a revise of Steelflower in Snow, which is tentatively planned for an October release. There is one more Steelflower book after that, if the current ones do well. I don't think I'll write her eventual return to her homeland, I think maybe I'll just let her adventures in the Highlands reach their natural conclusion and bid farewell to the series. Mostly because I'm tired of people yelling at me over them.
Odd Trundles is Extremely Put Out this morning, since he refused to leave the Fancy Office Dog Bed and as a result got splattered with saline. (Don't ask. Just…don't ask.) To add to his discomfiture, the Mad Tortie has decided she wants to play, but only wants to play according to her rules, which shift so quickly Odd can't keep up. He keeps getting smacked on the nose–with no claws, the Mad Tortie is velvet-pawing him–and looking at me with this long-suffering but I'm doing what she wants, Mum, make her staaaaaaaaaaahp look.
In short, it's Monday all over, for the bulldog as well as yours truly. When I head out for a run he'll moan, groan, eventually settle for his morning nap, and be snoring gustily by the time I return.
Would that we were all so lucky.
Being raised by malignant narcissists who ALWAYS HAVE TO WIN took care of that, my God, I should tell you all about gin and pinochle one day…