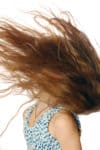 Got out the door for a run before the heat spiked. Apparently, after a few days of reasonable temperatures, we're going to be roughly the surface of the sun for a while.
I hate hot weather. Snow, cold, rain I can handle, but I just…I hate sweating, unless I'm running or dancing. You can always put another layer on, but you can't take off your skin and cool down that way.1 Not that I'd want to, with all the pet hair around. Having that stick to one's raw muscles would be suboptimal.
Anyway, B and I got out for a run, and my knees didn't hurt at the end, which is a sure sign that I needed new trainers. The new socks are pretty spiffy too; the old ones have so many holes they're not much use against blistering anymore. Poor things, I tend to wear them until they're more hole than sock. Considering a sock is just a hole you put your foot in, maybe they don't mind.
Once home, I trimmed my hair so I don't have to do it again for six months, and while wielding the shears, I suddenly knew how the last assassination attempt in The Maiden's Blade happens. Or at least, most of it. After sweating over it all through my run and coming up blank, it was like a gift. Pikes are the traditional defense against horsemen, after all. Once I have that scene, it's a straight shot to the end of the scaffolding, and then I'll have a (very rough, full of holes) zero draft. I'd like more time to polish it into a reasonable first, but since the book I was supposed to write died on the vine, this one has moved into its space and created a time crunch.
At least the corpse will be whole once I get even a scaffold-zero down. It's comforting; if I have little faith in my ability to finish at this point in every book, I know I have a great deal of ability when it comes to revision.
It's just…that first step is a lulu.
Time to get the pikemen into position, and a main character messily murdered. I hope your Tuesday is as…uh, I was about to type "pleasant," but that's not the right word, is it? Nor is "eventful."
I suppose I should simply stop while I'm ahead. Over and out.