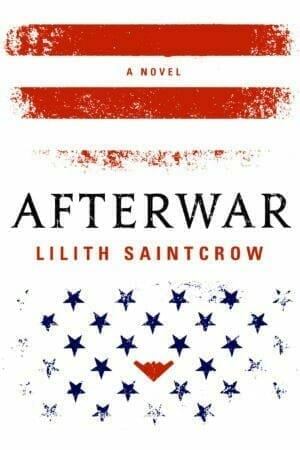 That's right, my dears! The book I've been agonizing over for multiple years is now out in the world.
---
They say the war's over when the surrender is signed. It's a lie.
America's bloody Second Civil War lasted for years. When the surrender is signed, it's supposed to be over; refugees flood the highways, trying to get back home. For Swann's Riders-especially their newest addition Lara Nelson, snatched from certain death in the Firster kamp system-there's no such thing as a home to return to.
Swann and his crew of partisans work for the Federal Army now, hunting through the wreckage for war criminals and kamp officials. Their next quarry is carrying something explosive, something that can level the nascent Federal government and turn the entire continent into a hellscape- well, more than it already is.
Across America, working against time and chaos, Swann's Riders are back in the fight. And Lara, whose secrets may well end up consuming her too, has a vengeance of her own to deliver…
---
I finished the zero draft of Afterwar in March 2017. The book itself was brutal to write, for obvious reasons. Then, things started going wrong. Orphaned twice1 and delayed at every production step, last-minute proofing hassles, payment snafus…I joked to Kevin Sonney that if the printers didn't catch fire and sink into a swamp, I would be surprised. There was just that much bad luck during the publication process. Every once in a while a book gets a perfect storm of Shit Happens, I guess I was due for one anyway, and the fact that it came on the heels of finishing what was probably the most emotionally difficult story I've ever written was just icing on a terrifying anxiety-laden cake.
Every book deserves acknowledgements, and I don't usually do them on release day, but this is a somewhat special case. I want to take a moment and thank Devi Pillai and Miriam Kriss, who believed I could do something bigger and were there to encourage and help me when I (frequently) doubted, Lindsey Hall, who had to deal with me at my very-most-frazzled, Mel Sterling for support above and beyond even the call of Best Friend Duty, Lauren Panepinto for not strangling me when I became difficult and for a great cover, the Deadline Dames and the MurderFriends for a constant mutter of support, cat gifs, and zaniness, Sarah Guan for taking the book through the home stretch and soothing a Very Tired Writer, and my children, who I wrote this for. I should also add thanks to the many service members, in various branches of the armed forces, who answered my bizarre questions with patience and good humor, especially Jeff Davis.
I'm very tired, having spent a restless night, and the release day anxiety is particularly bad. I can barely believe the book made it out into the world, and am at once relieved and scared almost witless. Waiting for another shoe to drop, as it were. So I'm going to go and spend this day the way I spend other release days–shaking, soaking my head in a bucket, and writing. (One of those options may not be quite feasible; I doubt I have a bucket clean enough after the recent stomach flu.)
Come back on Thursday, and I'll tell you some more about Afterwar. In the meantime, I have a Fanchat Discord you can join; just be sure to mark your spoilers.
Over and out.