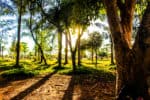 Mid-80s yesterday, and the dogs were happy to bask and even happier to go inside and spread out on the cool tiles of the dining room. I managed a great deal of gardening–never again will I allow stinking geranium to spread unchecked. I mean, I know it's supposed to be good luck to carry, but there's only so much of that smell I can take. Plus, it was choking what peas managed to ward off the slugs, and providing a lovely sunshade for said slugs and their snail cousins. Which would be fine if the slugs would eat the damn weeds and leave the damn peas alone, but that's too much to hope for.
Anyway, I've a mild tan on my shoulders and I'm sure my body has no idea what to do with all the vitamin D it's bathing in. We have reached the sunscreen half of the year, when I lather on layers of the stuff.1 Miss B had her daily brushing out on the deck, which means her coat picked up pollen and various other things as she rolled around in ecstasy. She really likes being brushed, and contorts herself in a variety of ways during the experience. Odd, of course, can't roll onto his back without difficulty breathing, and he's sensitive so brushing is kept to a minimum so as not to irritate his skin or make him tetchy.
A tetchy bulldog is a terrible thing. The groaning is long and involved, and the mournful looks are so heartbreaking, in fact, that one must laugh or be considered completely soulless.
Anyway, I finished my chores early yesterday and settled in to read Alexander Werth's magisterial2 Russia at War. You can tell it was published in the early 60s; Eastern Front scholarship (and the opening of confidential archives after the Soviet Union dissolved) has advanced a long way since. Still, it's an epic work, even if Werth was rather too inclined to believe the "official" Soviet versions of things. Part of it was that he didn't know any better, since the archives were still closed; part of it is, no doubt, his fellow-feeling for the ally he was embedded with during the earthshaking events of WWII. He tends to ascribe to Stalin rather more charity and clarity than that fellow actually possessed, and I have Volume II of Kotkin's new biography of the Iron Tsar on the docket next as somewhat of a corrective.
I'd have preferred for Gareth Jones to survive and write the definitive work, especially since Jones went walkabout in Ukraine during the Holodomor and did the only real reporting on that disaster.3 While reading Werth's asides on Ukrainian nationalism, the swallowing of the "official" Soviet line (and its giveaway term, "Banderite" as a pejorative) is glaring. I'm glad I read Anne Applebaum's Red Famine before attempting Werth. History is a puzzle, the pieces painstaking assembled and constantly reframed.
As a result of spilling onto the couch and reading for a few hours, I don't have my usual feeling of "I need a weekend to recover from the weekend's frantic activity." It's a nice change, but now I need to roll around in a few more layers of sunscreen and hit the pavement before the temperature climbs. Really, anything above seventy is Too Sweaty for my adapted-to-the-PNW-mushroom self. I'm already longing for more rain, and it's only May.
Off to the races, then.