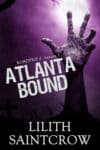 Season 4 of ROADTRIP Z just started, so if you want to get in on it, now's the time. This is the very last season, and after it ends (probably sometime in October) I'll be doing another serial. I'm not entirely sure, but I think it'll be Robin Hood in Space, otherwise known as HOOD. (I have this thing for capitalizing serial titles, I guess.) I just have to figure out if that one's a long standalone or broken up into seasons, too.
Good morning! It's Beltane, which is lovely. It's also (supposedly) the day we finally get the new dishwasher (still sitting in our garage) installed and can stop calling service people and the home warranty folks. After a bumpy start, the latter have been more than kind. The only problem is having to call them each time because I hate the phone…
*time passes*
Well, just as I was typing that, the doorbell rang, the dogs went nuts, and it was the installer. Several hours early, in fact. And despite one small snag (the water hose wasn't long enough, so he popped out and grabbed a new one) everything went smoothly. So smoothly, in fact, that the NEW DISHWASHER is currently WASHING. I mean, there wasn't much to put in there for its inaugural load, but dammit, I made do. I FOUND things to put in there.
A big shout out to: Trevonte, Renee, Samantha, and Kinetha at AHS for their patience and kindness, another big shout-out to the original installers who had a helluva day before they got to us, yet another to Mr Gates of Gates Plumbing who was kind, professional, and thoroughly courteous, and to finish it off, thank you, Tri-County, for coming through bigtime.
I've got to say the last installer–the Tri-County fellow–was a wizard. The dogs calmed down while he worked, he hummed to the dishwasher while installing, and he had the nicest, sleepiest, most genuinely pleased smile I've seen in a while. The May Day Appliance Wizard, I'll call him, and dear gods above but this was a pleasant way to start a brand-new month. April was horrid, but the luck has changed now.
It takes a village to get a damn dishwasher in. The thing is running now, and I can't hear it. The old one used to be audible even outside the front door. I've had to walk down the hall and check that it's still running each paragraph.
*checks again* Yep, still running. Man, it's nice to have that back.
Now I'm going to go for a run. No rest for the wicked, and my joy will probably float me for a few blocks until my heart, lungs, and legs figure out I'm making them work again.
Over and out.