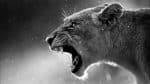 Attempting new things, because the old way isn't working. Sometimes old ways work for a while but peter out, or everything around the path changes and you have to change the path to suit.
So, the big change is moving my run to before morning blogging. Getting out the door is difficult even on good days. I mean, I roll out of bed and into my running clothes, but peeling myself out of the house is another animal altogether. Attacking the run while relatively fresh is a good idea, and now I can use blogging as a chance to prime the pump and get words flowing from my fingers.
The weekend was…nice. I got out of the house for a hot date with a girlfriend; we went to see Deadpool 2. Matinee tickets, so I would have left as soon as the fridging occurred, but I had to stay. For what it's worth, I enjoyed Domino (wish the movie had been about her instead) and Cable (Josh Brolin is distressingly sexy, even after all these years1) and the Rob Liefeld jokes (dear God, and Shatterstar in the helicopter blades) were well worth the price of admission. Still…can we just not have fridging and manpain as narrative fuel in superhero movies? It's old, it's tired, I'm done with it.
I also braved the depths of a beauty store and emerged victorious, carrying a few shades of eyeliner that aren't black2 and–are you ready? LIPSTICK. I know, I love Russian Red lipstick, but a dark purple-red actually suits me better. When I came home bearing my prizes (and several things for the children, since the beauty store is near an import shop full of neat things) I was told I looked like a pissed-off Wednesday Addams. An awesome compliment, to be sure, especially since Wednesday is merely unamused and rarely deigns to get actually angry.
The comparisons just write themselves.
Anyway, today I crowbar'd my way out of the house, finished my run, and rolled into jeans, a hoodie, lipstick, and my favorite Sarto heels. They're not my Capezios; I can run and fight in the latter, but I'd have to kick the Sartos off to run. Which makes them suboptimal, but I'm not leaving the house and I think I can relax enough to wear non-running shoes in my office. And yes, those are my requirements for any piece of clothing. Can I run in it, and can I fight in it? All other considerations are secondary.
It feels good to be braced for the day like this. Next comes getting back into The Maiden's Blade and putting more pieces together. I've decided to do dialogue-heavy scenes first, and layer in the color and scenery on the next pass. I was trying to do both at once and banging my head on the slooooooooowness. I need scaffolding before I can make the fabric of this book hang correctly. A certain king needs to give the go-ahead for his daughter to be assassinated and there's a day at the races with two princes to write as well. If I can get both of those scaffolded, I'll count today a win.
See you around the bend, darlings.
*throws kisses, vanishes in a puff of smoke*
LOOK, I WATCHED YOUNG RIDERS RELIGIOUSLY AS A YOUNG THING. Well, the first couple seasons. Once Kit and whatsherface got together I lost interest.