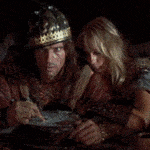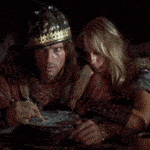 Spring Break is over. The Little Prince is back in school, and the Princess tells me her fellow retail workers are kind of thrilled there won't be kids racing the mobility scooters in the aisles anymore.1 Consequently, the house is very quiet.
Too quiet.
We've had a couple days of houseguests to close out the holiday as well, which means the dogs were all excited over the regular routine being broken. So excited, in fact, that Odd Trundles is seriously behind on his napping, and eschewed most of his brekkie today in favor of trundling back to the office and his Super Fancy Dog Bed. Miss B is tired but also a bit frazzled from Constantly Supervising New People, so she'll accompany me for a gentle half-hour run to work all her fidgets out and wind her down so she can sleep. It's lovely to have people over, but it's also lovely to have the house back afterward.
I'm also waiting with various stages of patience for the home warranty company to get in touch with me about NEW DISHWASHER. I fidget whenever I think about it, especially since I did a lot of cooking this past week. The pasta pot needs scrubbing, and so does the giant crock pot. I am willing to make cookies for whoever delivers and installs a new goddamn dishwasher, then shoo them out the door and test-drive said new dishwasher.
In other news, Season 3 of Roadtrip Z releases on April 17, and yes, there will be a paperback, it's just not dropping until my faithful subscribers get their free ebooks. (Serial subscribers get free ebooks of the unedited AND edited seasons. I try to make it a good deal for my peeps.) And we're coming up on the release of Afterwar in May, which…you know, I typed "finis" at the end of that zero draft over a year ago, and that book has had such a hard road to publication I'm expecting AWFUL NEWS ABOUT IT every day from now until it actually goes on sale. It wasn't anyone's fault, there was just a perfect storm of Things Going Wrong Outside Everyone's Control, but dear God I have only just recovered from it.
…as I was writing this, my new editor at Orbit tweeted a picture of a stack of Afterwar, so synchronicity is alive and well, AND the printers didn't burst into flame and sink into a swamp2 which is ALL TO THE GOOD and maybe the book will go out without any further disaster.
I just winced, typing that. I'm sure the gods of publishing are laughing at me. Loudly.
I had other plans for this blog post, but it kind of derailed, and I've got to get out for a run. I also got our last houseguest loaded into his car during the writing of this, so any train of thought I had is well and truly derailed. Maybe I'll do like the dogs and take a nap?
Maybe. But only after I run.
Over and out.