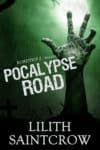 Season 3 of Roadtrip Z goes live tomorrow, which means I'm having release-day nerves all the way down. Maybe that was why my Sunday was full of staring and not getting much done.
Thankfully I get to run today.
*time passes*
My frustration with the home warranty company still dicking me around over the dishwasher replacement reached a certain level that usually leads to stomach irritation, so I tied my shoes and hit the pavement with Miss B. Who was quite pleased, thank you very much, and is now exhausted enough to be a Very Good Dog for the rest of the day. I mean, I know she's always a Very Good Dog, but this will make her a Very Calm Dog as well. Or at least, as calm as an Australian shepherd can get.
She's currently sprawled in the hallway, opening an eye whenever I pass. She would like, no doubt, to be snugged up against my office chair, but she suspects I have plans of moving about, and the hall remains the place she can keep track of me without hauling herself upright to supervise my peregrinations.
Today I have release day nerves and concomitant self-care to attend to, as well as seeing if I can get this lady-in-waiting kidnapped and a pair of unlikely rescuers. I have to get through several other scenes to do so, or I could just say "to hell with it" and write the kidnapping/rescue first, then go back and fill in the piercing, the confrontation in the market, the next arranged marriage, and a couple assassination attempts.
This is going to require some thought, and more coffee. I'm hoping the book's architecture will let me work on it non-chronologically, but that may be borrowing trouble. We're at almost 80K words for this damn story, it's only book one, and there's at least a third more of the whole thing to cram into writing time over the next couple months.
I'm not sure I'll make it.
Plus, this is something I've never attempted before, and the anxiety over maybe fucking it up beyond repair is…mounting. Even sweating for multiple kilometers doesn't erase that completely. The only way out is just doing the best I can and seeing if I can hit the updated draft deadline. On the bright side, a book usually takes over all my available bandwidth like this right before it spikes towards the finish line.
It's just that instead of having only 10K words or so to get out of this monster, I have more like 30, and that's if I'm lucky.
I keep meaning to reserve a little energy to work on Robin Hood in Space–the first season will probably be titled Hood, Home–but when I get to the end of working on Khir's Honor for the day, I'm worn out. I'm not sure anything else can give in order to free up energy. Dog care, child care, running–those are non-negotiable hard points, and I'd really love to keep on with Latin and piano since the latter is one of the few times my brain doesn't eat itself during the day, and Latin makes me happy. I have so much crammed into a day, and need to cram in even more.
Well, complaining about it won't get it done. Time to set a timer and get the fingers to working through the setup for the kidnapping scene. I may have to throw it out later, but at least it's progress.
Over and out.