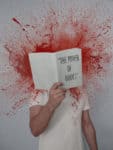 So after a lot of back-and-forthing, and desperate attempts to write a dead book even though it made me physically ill…I no longer have to write the dead book. I don't even have to attempt it. Instead, I can work on something that doesn't make me stress-vomit each morning.
Needless to say, this is a welcome development, and when I got off the phone with my agent yesterday after making sure this was the case, I almost collapsed. My knees haven't been that rubbery since I heard from my lawyer that the divorce was final. Pure relief and liberation tends to knock me right over, whereas pain just makes me more stubborn. (This, I'm sure, surprises none of my regular readers.)
As a result, this morning I feel liberated. Like the prison doors have opened and I'm free. The relief is intense enough to make me a little silly. Along with more snow dumping last night and both dogs deciding to be EXTRA adorable today. They're always super adorable, but some days Miss B puts her paws on my chest and sneezes, and Odd keeps bringing me toys in order to bribe me to get out the door for walkies, and the adorbs is turned up to eleven. Especially when Miss B rests her chin on my knee and deploys the Big Doggy Eyes of "Yes, drink your coffee, I'll just wait here. Patiently. See how patient I am? I am REALLY patient. Just waiting for you, Mum."
Like that.
I'm excited to get to work today, which I haven't been for a while. I'm flat-out gleeful to go into a book that won't make me retch with stress.
But first, yes, finishing the coffee. And walkies. Before liberation, walk dog and drink coffee.
After liberation…walk dog and drink coffee.