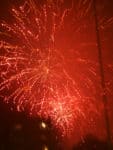 So. We survived 2017. Idiots in the neighborhood busted out (now-illegal-within-city-limits) fireworks, so Miss B was huddled near me until we went to bed, where she promptly passed out and only twitched at the booms and bangs. I guess once she's on The Hoomin's Bed, nothing can harm her. I do wish she wouldn't have needed her snout thrust firmly in my hair before she did the said passing-out, though.
'17 was awful. The world is on fire, there seems no way to stop the flames, and I'm tired. I took a good wallow in the last week, playing video games, letting myself eat whatever I wanted whenever I wanted, only producing 200 words or so a day–just enough to scratch the itch–and just generally rolling around in a pile of "waaaaaaaaaaah".
I know time is subjective, I know today is technically just the same as yesterday and the change in year only has power because we all agree on it. The Witch's Year started on Samhain, and one of the things I enjoy is the lying-fallow period from the winter solstice to the other New Year. Often I try to scramble, to get work done during that time, but I'm forced to accept that I need, well, not to.
It doesn't help that salaried publishing people tend to clear their desks right before major holidays, which means work lands on freelancers–including the writers producing the content the salaried people are selling. Just one more way the industry is kind of benighted; eventually our culture will appreciate the creatives it's built on and needs so desperately.
And while I'm dreaming, I'd also love a war unicorn to gore my enemies.
ANYWAY. We made it. I'm here, you're here too, and there's exciting stuff coming down the pike. Check out my new Subscriptions page–if you're in the mood for a monthly or weekly hit of fiction, or access to the ongoing Roadtrip Z serial, or if you just want to throw a little in the tip jar, there are plenty of options.
After my run, while the laundry is chugging away and Miss B is exhausted into happiness again, I'll be cleaning off my desk a bit at a time and redoing my master to-do list. It's nice to see what I crossed off over the past month. The lying-fallow period has one great advantage: when it ends, I am more than ready to get back to work.
*puts on helmet, and goggles* Let us go forth together, my dear Readers, and kick some ass.