That's right! Season 2 of Roadtrip Z is now up for preorder. Patreon "Serial Time" subscribers, of course, get access to the serial as it's written, AND get ebooks of the draft and finished seasons for free.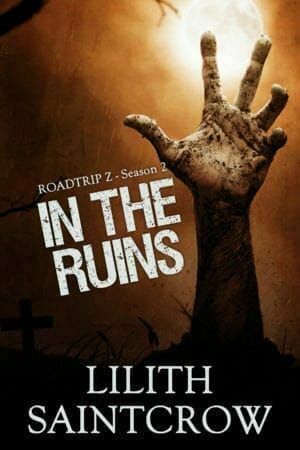 Season 2 of Roadtrip Z!
Ginny Mills is a librarian with a mission. She's determined to get to her family, and not even the crowds of shuffling, infected undead will stop her.
Lee Quartine's spent his life making do and getting by. He knows how to survive, but now he has Ginny and a small band of survivors to care for.
The power is out. Winter has arrived. The infected roam in packs. Survivors are showing up in the strangest places. And Ginny and Lee haven't even crossed the state line yet.
It's gonna be a long trip…
Now available direct, at Amazon, Barnes & Noble, or (soon) independent bookstores.
I am so excited to be bringing you the continuing adventures of Ginny, Lee, & the gang. I hope you like it–Patreon subscribers are about to start Season 3, wherein more survivors show up, this very week.