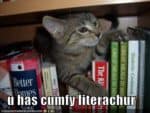 I was at the Powell's Authorfest last night, along with a host of other fantastic authors. There were a lot of people, and quite a few of them told me they liked Cormorant Run. Which was great to hear–it's one of the books I like best, but it seems reviews have been mixed.
Not that I look at reviews often. You know how I feel about that.
Anyway, driving home in the dark, my brain in that strange liminal place of juggling time, speed, distance, and the current stories I'm working on, I felt my life loop over and catch on another peg. I've done a lot of driving or wandering at night with my head full of stories, trying to shake out pieces or fit them together. I got out of the habit when the kids were younger–you can't leave your house empty except for sleeping children, not unless it's an emergency. I realized how much I missed being out at night.
I suppose I could go out walking with my camera after dark again now, since the kids are well into their teens. Miss B, of course, would ache and pine to go along. At the same time…I love being out at night, it's my preferred time, but I've just arrived at the point where I can sleep reliably. A small but significant proportion of my used-to-be-usual insomnia is the fact that I am a night owl; my internal rhythm is set to rise and resurrect about noon, get to work around 2pm, go until 11pm-midnight, wind down, and go to bed about 2am. Given my druthers, that's how my entire life would be arranged.
But it's a daywalker's world, especially if you have children who are Day People. School means getting up when daywalkers do, consequently I've been doing it for years. Now the kids are largely capable of getting up on their own, but shifting the dogs' schedule would entail a lot of moaning and groaning. And I am on call while the kids are out of the house–just because they're not home doesn't mean I'm allowed to sign off.
So, obeying the schedule my body wants would require shifting the dogs' schedule, possibly being out of commission during a Grown(ish) Child's emergency, and moving my meds schedule. That last is the least worrisome of the three. I can't accept the thought of being out of commission while one of my spawn needs me, no matter if one of them is technically old enough to smoke and go to war. (Not that she'll do either, she reminds me, thank you very much Mum.)
I guess I'll impersonate a daywalker for a little while longer. Maybe until the Little Prince is out of school and settled on his trajectory. At least I can consciously decide to do so, instead of feeling trapped by circumstance.
Driving at night and feeling that internal catch, the sense of a life decision being reached or coming back to a particular angle on the spiral of one's current incarnation, is precious. So is arriving home, pulling into the garage, and having Grown(ish) Children and dogs clustering at the door because they missed you and they're glad you're home. Hugs and the high-speed downloading of what happened at work or while I was gone, cold damp noses pressed against my knee and wiggling hind ends, grins and "I put the stuff for your dinner right next to the stove, Mum" all add up to another soft, beautiful realization.
Sometimes, I think, I long to go out at night just to come home, now that I have a safe warm nest to return to.