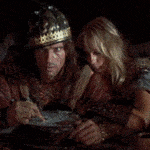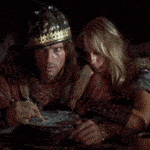 Some nights, not even warm socks or an extra blanket can keep insomnia at bay. About once a month, sleep decides it's skipping me and heading for more congenial shores.
This isn't as bad as it sounds, really. It used to be I couldn't sleep at all–the anxiety lay in wait, a sharptooth creature with baleful eyes. Now, at least I can plan around that one day a month Morpheus decides to skip visiting. (Insert Matrix joke here.) And Miss B's regular breathing, not to mention furry warmth, are far from the worst companions while I'm tossing and turning. Eventually I turned the light back on and wrote iterations of cover copy, then polished off The Vice-Consul.
I'm sure reading Duras wasn't helping my mood. Her books provoke something very close to depression, kind of like listening to Jandek. Also like Jandek, they scratch a particular itch, and every once in a while I find myself scrubbing said itch until it bleeds.
So today is for the last proofing pass on In the Ruins, season 2 of Roadtrip Z. I'm just cranky enough to snag on details, but not too fatigued to say "fuck it, I don't care." It's a good sweet-spot to hit, and after I get everything done, dusted, and uploaded, there's a gentle run to shake my fidgets (and Miss B's) out, with the bonus exhaustion factor to make sure I sleep tonight. I should probably also get the makings for red sauce into the crock pot–I wonder if I should do a roux for a base? Choices, choices.
*sits and stares for a moment* A roux might be over-enthusiastic of me. We'll see.
Over and out.