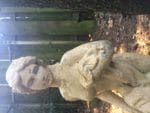 Miranda was right, as usual. It wasn't raining the next morning, though the forecast said thunderstorms later. So I bopped out, holding a mug of scalding coffee. I rather suspected I'd need the caffeine; and it's handy as a weapon if the mug is big enough–or the coffee hot enough. I reasoned a crossbow firing toothpicks wasn't likely to be out of coffee-flinging reach, either.
What? Yes, I do occasionally reason, my friends. Not often enough, to hear my exes talk, but hey, there's a reason they're ex.
Miranda: HELLO, DEAR.
Me: Good morning, Miranda. How are you?
(She, like me, prefers a little formality.)
Miranda: RATHER SHORT ON SLEEP. WE STAYED UP LATE, TALKING. BUT I'VE CONVINCED LOUIS TO MEET YOU, AT LEAST. HE IS…SOMEWHAT SHY.
Me: Im sure his habit of shooting at people doesn't help.
Louis: THEY AIN'T PEOPLE, MA'AM.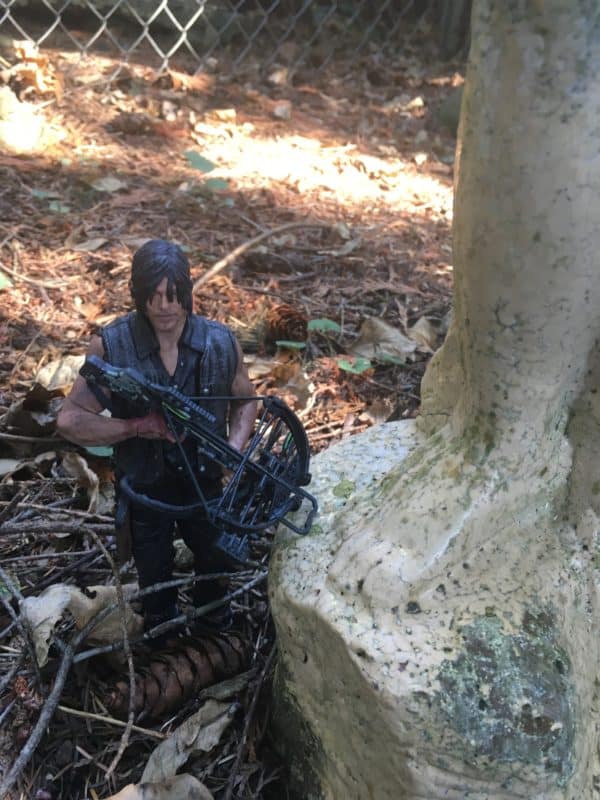 Me: JESUS CHRIST.
Miranda: LANGUAGE, DEAR.
Louis: FUCK!
Miranda: *rather loudly* LANGUAGE!
Me: What the hell are you?
Miranda: LANGUAGE, DAMMIT!
Me: *shifting backward on my haunches, lifting my mug* Yeah, yeah, language. I repeat, who the hell are you, dude?
Louis: *eyeing my coffee mug warily* LOUIS DARRUL AT YER SERVICE, MA'AM.
Me: You've been shooting at my backyard residents?
Louis: FRIEND OF YOURS SENT ME.
Me: *bracing self, with a sinking sensation* Oh yeah? Who?
Louis: A MISS MEL. I WAS…WELL, HER CHICKENS ARE KIND OF…LOOK, I DIDN'T KNOW SHE KEPT THEM FOR EGGS, ALL RIGHT?
Me: *digging for my phone* Oh, hell no.
Miranda: IF YOU TWO ARE GOING TO USE IMPROPER LANGUAGE, TAKE YOUR CONVERSATION ELSEWHERE.
Me: *texting furiously* Miranda, you are the backyard oracle, and due respect, but for right now, my friend, shut up.
Louis: DON'T TALK TO HER LIKE THAT.
Me: I will settle your hash in a minute, Mr Darrul. Be quiet.
Now I shall present to you, my friends, an excerpt from the text conversation with my lovely, wonderful, mischievous writing partner, the Selkie.
Me: WHAT. THE FUCK. MEL.
The Selkie: What?
Me: You sent me a hillbilly with a crossbow?
The Selkie: Oh, yeah, him. He was irritating my chickens.
Me: FOR GOD'S SAKE.
The Selkie: What? You like zombie hunters.
Me: He thought your chickens were zombies?
The Selkie: It's a long story. Enjoy.
Me: I swear I will get you for this.
The Selkie: *smiley face*
I stuck my phone back in my hoodie pocket and eyed the fellow. He eyed me right back, and his tiny finger twitched.
Me: Don't even, dude.
Miranda: HE NEEDS A PLACE TO STAY.
Me: Oh, of course. Of course he does.
Miranda: IT'S NOT HIS FAULT, HIS HOME WAS OVERRUN BY–
Me: Oh, sure. Sure. I've got ceramic squirrels, a koala in a corset, a fucking Batman, what's a psycho with a crossbow? Sure, great, wonderful, welcome to the goddamn backyard, Louis.
I was not very graceful at that point, I guess, but can you blame me? My nerves were somewhat shot. Miranda, thankfully, did not tell me to watch my language. I suspect she knew I would not take the suggestion kindly.
Louis: I WON'T MAKE NO TROUBLE, MA'AM.
Me: You are going to have to stop shooting at Willard. And at Joe.
Louis: WHO? YOU MEAN THE…BUT, MA'AM, THEY'RE UNDEAD.
Me: They are productive citizens of the backyard realm, sir.
Louis: …YOU SURE?
I tipped my head back, my jaw working. I could feel my teeth groaning under the strain.
Miranda: YOU SEE? DESPITE HER TEMPER, SHE IS A VERY GOOD RULER.
Me: I doubt I'm in charge here, Miranda.
Miranda: WELL, NOMINALLY, AT LEAST.
Me: *bringing my chin back down* I suppose I deserved that one.
Miranda: *quietly* YES, YOU DID.
Me: Okay. Fine. Sure, what the hell. If you stop shooting at Willard and Joe, Mr Darrul, you can stay.
Louis: WHAT ABOUT THE SQUIRRELS? THEM'S TASTY, AND A MAN'S GOTTA EAT.
Me: Oh, good Lord.
So I ended up gingerly closing my hand around Louis's middle, trying to avoid the crossbow–
Louis: CAREFUL, WOMAN. THAT'S MAH KNIFE.
Me: I could hold you by your head.
Louis: *extremely quiet*
Miranda: VERY GOOD, THEN.
Me: Sorry for cussing, Miranda.
Miranda: THAT'S ALL RIGHT, DEAR. YOU WERE IN SOMEWHAT OF A SITUATION. OH, YOU'LL NEED BURN CREAM.
Me: For…? *standing up, a bit too quickly* Oh, fuck.
Miranda: THAT.
Louis: BE CAREFUL, DAMMIT!
I'd forgotten just how hot my coffee was. I swore all the way carrying him inside, ran my hand under cold water while swearing, and introduced him to Fred, George, and Tiny!Batman in a rather perfunctory fashion. George got him a cuppa, Fred clucked over the state of his boots, and Wendy did not take to him but she was polite.
Later, of course, I found out he really was a good ally in the event of squirrel attack. But that's (say it with me) another story.