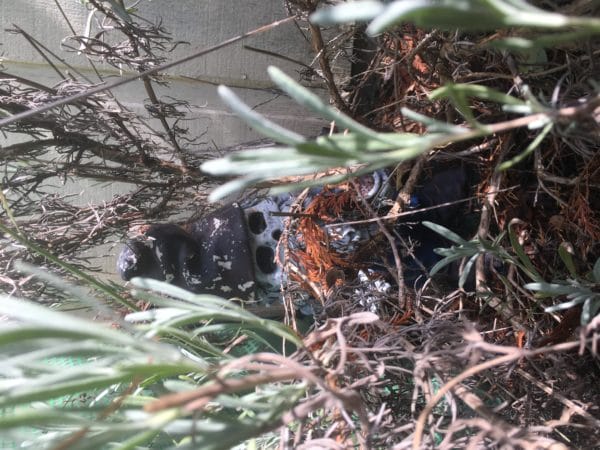 So last week I told you about finding poor Willard facedown, and the mystery of the plastic crossbow bolts. I wasn't quite worried, per se–the things were hardly more than slivers–but what if the Mad Shooter escalated? Besides, Willard is made of concrete. It takes some extraordinary event to topple him, much less throw him a few feet in any direction. And poor Phil was all but vibrating in place.
I couldn't turn around fast enough to see who shot at us. So I headed across the yard, after rigging up a little shelter for Phil and Willard–the tiny table isn't ideal, but it'll keep slings and arrows off them.
Or so I hoped.
Anyway, I got to the back corner near the shed, and I began to be a little alarmed until I heard a faint hiss and a low, conspiratorial "OVER HERE."
Me: Uh, I'll tell the Princess to trim the green, since it's her–
Emphysema Joe: NO! DON'T DO THAT! THIS IS THE GPP!
Me: …
Emphysema Joe: THE GNOME PROTECTION PROGRAM. SOMEONE'S TRYNA PICK US OFF AT NIGHT. I ONLY GOT A GLIMPSE OF HIM, BUT HE'S SCARY.
Me: So you saw what happened to Willard? Phil's shaking, he's so upset.
Emphysema Joe: DAMN RIGHT I SAW, AND I AIN'T TALKIN EITHER. I'M HIDING. SO, YOU KNOW, NICE TO SEE YA AND I'D LOVE TO CHAT, BUT…
PING!
I ducked, Joe almost shrieked, and I whirled to try and find the source of the noise and the tiny crossbow bolt. The quarrel was carved from cedar–not the best choice, but it told me we were dealing with someone used to roughing it and living off the land.
So to speak.
Me: *loudly addressing the yard* This is NOT proper behavior, whoever you are.
Emphysema Joe: DON'T PISS HIM OFF, FOR GOD'S SAKE. LOOK, JUST…JUST GO INSIDE. IF YOU SEE THOSE CRAZY-ASS AUSSIES, TELL THEM IT'S NOT SAFE YET.
Me: Wait, Fred and George–
Emphysema Joe: THERE'S A REASON THEY AIN'T AT HOME, LADY.
Me: Oh, for God's sake. What does Wendy say about this?
Emphysema Joe: SHE HAS HER HANDS FULL. THAT BANE GUY GOT HEATSTROKE AND KEEPS ESCAPING HER. CALLS HER "NURSE ARKHAM."
He meant tiny!Batman, who has a host of medical problems. Look, ninja-fighting crime makes for a lot of head trauma, that's all I'm saying. I decided it wasn't likely the mad shooter was going to hit me–he had pretty poor aim, it seemed–but I should probably stay on the move. The last thing I needed was something in my eye.
Me: Okay. Look, stay under cover. I'm going to go talk to Miranda.
Emphysema Joe: ABOUT DAMN TIME. AND IF ANYONE ASKS, I DON'T KNOW YOU, YOU DON'T KNOW ME. FUCKING MILITARY-INDUSTRIAL COMPLEX HAS ME MARKED, MAN.
I was not going to stay and argue with him. (That's Phil's job.) So I set off again, glancing nervously at the roof. It seemed like a good guess at the shooter's location. I made it to Miranda's corner without tripping, and found another sign of something amiss–the remains of a tiny campfire, and someone had, um, decided Miranda's state of dress wasn't to their liking. And had taken it upon themselves to remedy her, ah, draperies.
Me: Oh. Oh dear.
Miranda: *calmly enough* MY DEAR, WE NEED TO TALK.
Me: I…I guess we do.
Miranda: CAN YOU GET THE MOSS OFF MY NIPPLES?
To be continued…