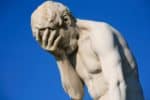 I ask you, my ever-faithful Readers, have you ever carried a very excited Australian shepherd up two flights of stairs while a squirrel screams imprecations from your shed roof and a garden gnome is using language he probably learned on a Grateful Dead tour?
…maybe I should back up.
So I compounded my error of opening the damn door by actually going down the stairs, and peering around the fir. It was too-early-o-clock for the amount of noise Canary!Squirl, on the shed roof, was managing to produce. I'm sure the neighbors already hate me, there was no need to add to it, right?
Not only was the goddamn squirrel screaming, and Emphysema Joe using language unfit for the gentleman he usually is, but Miss B was in what you'd call a perfect goddamn fury. She worked around the shed at top speed, busting through the kiwi vine on the south side, knocking over various stacked garden things, desperately seeking a way up to get to whatever was making that glorious, wonderful, oh-so-interesting noise.
I will admit, I stood there for a second, my pre-caffeine fog thinning but by no means lifted, gaping.
Canary!Squirl: FIRE! FLOOD! FUCKING ANARCHY!
Emphysema Joe: YOU STEP ON MY GREEN AGAIN IMMA RECONSIDER MAH PACIFISM, YOU GODDAMN–
Miss B: HEEEEEEEERD IT! HEEEEEEERD IT!
Odd Trundles: *sound drifting out my bedroom window* BORK BORK BORK ALERT ALERT LONELY SAD! WHY MUST BORK? BORK BORK BORK!
Part of herding is, of course, circling, which B was bound and determined to do, stopping every quarter-revolution or so to attempt launching herself at the roof. Each time, she was doomed to fail, so she would visibly decide circling was the best strategy, only to get overexcited and attempt again.
I made it cautiously across the yard, downing gulps of scorching coffee. Of course, I had the hazy idea that catching B's ruff while juggling a full cup wasn't optimal, but not enough horsepower to realize that maybe I should have just set the damn thing down. In any case, I was between one mouthful and the next, B landed in the lavender, Emphysema Joe began to really get warmed up, and Canary!Squirl made an amazing leap for a fringe of cedar branches hanging over the roof.
Miss B: HEEEEEEERD! HEEEEEERD!
Emphysema Joe: *spluttering curses*
Odd Trundles: WHY THERE NO MUM? ALOOOOOONE! ALOOOOOONE AND LONELY BORK BORK BORK!
Canary!Squirl: *splat*
That's right, friends and neighbors. Her leap was a masterpiece of power and passion, but it…fell short. She landed on the roof with a hollow bong! that was hilarious. Or at least, it would have been if B hadn't come around the corner again, intent on wrecking more of the lavender launchpad, and almost took my knees out from under me.
My coffee mug, thankfully empty, went flying. Emphysema Joe sucked in a horrified breath. I let out a "JESUS CHRIST!" worthy of Graham Chapman, almost fell onto a metal bar that had once held up deer netting (previous owners, I guess, thought we'd have suburban fawns? I don't even know) and Canary!Squirl, suddenly conscious of our presence, began to scream afresh.
Canary!Squirl: I'LL FIGHT YOU ALL TOGETHER! I'LL FIGHT YOU ONE AT A TIME! ANNNNNNAAAAAAARCHYYYYYYYYY!
Miss B: YOU HEEEEEERD TOOO MUM HEEEEEEERD GET IT!
Emphysema Joe: HOLY FUCKNUGGETS AND DOLLY PARTON, YOU OKAY?
Odd Trundles: *still in my bedroom* MUM? MUM IS THAT YOU? MUM I'LL SAVE YOOOOOOOU!
Me: *using "fuck" as every other syllable, and every part of speech, too*
I managed not to get stabbed by my own garden architecture, braced myself, and caught Miss B by the scruff on her next round. Barking hysterically, she was not amenable to being dragged by said scruff all the dim-damn way across the yard, nor was I particularly enamored of that strategy. The only other thing I could think of was getting my legs underneath me and my arms around her, and picking her up like a shepherd with a particularly naughty sheep.
I will spare you the details of the language I used, the language Canary!Squirl used, and the horrified moaning that commenced from Emphysema Joe as he began to take stock of the smooshed green. I shall also spare you the details of how I lost a shoe, staggering across said yard with an excited, wriggling, extremely flexible and motivated 50lb+ Aussie in my arms. I have a bruise on my hip from hitting one side of the stairs on the way up, fell on the landing and managed to keep hold of her, got her to the door, had to put her down and sink my fingers in her ruff to free a hand and get the door open, then toss her inside.
Odd Trundles: MUM? MUM IS THAT YOU? MUUUUUM I'M ASCAIRT! BORK BORK BORK!
Miss B: *scrabbling at patio door* LET ME AT IT! LET ME AT IT! I ALMOST HAD IT! I HEEEEERDED IT!
Emphysema Joe: JUST LOOK AT THIS. JUST LOOK AT THIS MESS.
Canary!Squirl: THAT'S RIGHT MOTHAFUCKAS, ANARCHY IN THE BACK YARD!
Me: …I liked that mug.
I collapsed outside the patio door and gathered what little wit I could lay claim to.
Damage: Bruised hip, hiccups (all tasting of coffee), torn fingernail (I don't even know), possibly broken coffee mug (goddammit), crushed lavender (that's fine, it'll give Joe something to do), lost shoe somewhere in the yard (why me, God, why me?), possibly insane squirrel (is there any other kind, I'm wondering?) still on shed roof, neighbors no doubt awake and cursing me roundly, and dog slobber all over my arms and pyjama top.
*sigh*
I won't deny I sat there for a few moments, feeling utterly unequipped to deal. But if there's one thing motherhood has taught me, it's that dealing is not optional. You don't have a choice, especially when you suspect that crazy-ass squirrel might not be able to get down under her own power. Besides, I had to go find my mug anyway, right?
So I made my third bad decision of that morning, my dear Readers.
I made up my mind that a squirrel rescue was in order.
TO BE CONTINUED…