It's here! It's here! My love song to Soviet sci-fi is here!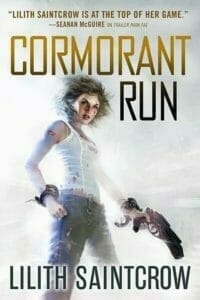 ARRIVAL meets Under the Dome in this new post-apocalyptic novel from New York Times bestseller Lilith Saintcrow.

It could have been aliens, it could have been a trans-dimensional rip, nobody knows for sure. What's known is that there was an Event, the Rifts opened up, and everyone caught inside died.

Since the Event certain people have gone into the drift… and come back, bearing priceless technology that's almost magical in its advancement. When Ashe the Rat — the best Rifter of her generation — dies, the authorities offer her student, Svinga, a choice: go in and bring out the thing that killed her, or rot in jail.

But Svin, of course, has other plans…

Now available at Amazon, Barnes & Noble, independent bookstores, and wherever else fine books are sold.
I am SO chuffed, and frightened to death at the same time. This is different than any other book I've ever done, and we fought so hard to get it published. Now it's ready for you, dear Readers, and I hope you enjoy it. If it's your jam, please do me a solid and leave a rating or short review at the vendor of your choice–it really helps, and means I can make more stories for you.
Now I'm going to go for my usual release-day run, and try to work all my nerves out. Each time a book goes out into the world, it's terrifying.
Catch you later, gators.