GUESS WHAT.
NO, GO ON, GUESS.
Oh, I can't stand the suspense. I'll tell you.
She Wolf and Cub, re-edited, is now a book you can preorder!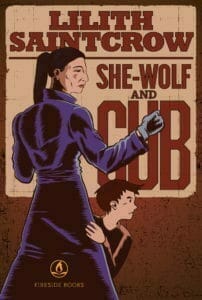 Ever since they gave her a new cyborg body and a steady stream of murderous work, she's known the rules. Keep your head down, do your job, don't get involved.
Then they sent her to assassinate a child.
Instead, she took him out of the City and into the Waste. Of course they'll be coming for her, and for the strange, quiet, thirsty boy she's rescued. Because he's not just a child — he's a profitable experiment. Bounty hunters. Fellow cyborgs. Cannibals. Monsters. They're all after him. All she has on her side is an almost-invulnerable body, a lifetime's worth of stubbornness, and the willingness to kill whoever she has to.
It's going to have to be enough.
Ebook available for preorder from Kobo, iBooks, and Amazon; paperback and Nook will be added on Release Day, March 28.
Longtime readers will remember She-Wolf was originally a Fireside serial. (They're committed to paying writers a working wage, so show them some love if you can.) I had a ton of fun writing it, and I love the heroine. She's one of the few characters I actually like personally, for reasons probably best left unsaid. Longtime readers will also remember PACK, an e-short out through Orbit, that was one of my first attempts at writing the short story that eventually became She Wolf and Cub. Just in case you wanted to see how a story can change, and morph, and become something COMPLETELY DIFFERENT.