WELL. Do I have news for you, my darlings? I do, I do!
It's official, I'm going to be writing a book for the Veil Knights series! It's King Arthur meets urban fantasy, with bonus scavenger hunt. A bunch of really cool writers are banding together under the name Rowan Casey to bring you all sorts of delicious fun in a brand-new universe.
The bad news is, I can't tell you which one I'm writing. I am Pinkie-Sworn to Secrecy, because there's going to be a contest after Season 1 ends to see if people can match the book to the author. I'm sure my darling Readers, being the smartest around, will utterly smoke that competition, right?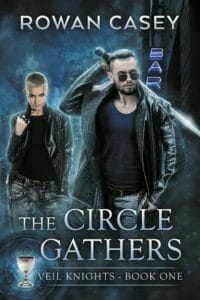 To sweeten the deal, the first in the series, The Circle Gathers, is $.99 on Kindle right now.
Three years ago, Jessie "the Berserker" Noble was at the top of the MMA fight game, a world-title contender with a brilliant future ahead of her. Then the visions started and her world came crashing down. Hard. Now she's a shadow of her former self, taking fights in the underground circuit to earn just enough to buy the drugs she needs to keep the horrible hallucinations at bay.

When a man named Dante Grimm tells her she's the modern incarnation of a champion of old and that she and her soon-to-be companions are desperately needed to hold back the darkness to come, Jessie thinks he's as insane as she is. But Grimm's far from crazy. There is a battle coming the likes of which the world hasn't seen in centuries, a battle against a foe straight out of their worst nightmares.

And for them to succeed, Jessie going to have to dive deep into the heart of the very thing she's been running from all this time…
You'll probably want to pick it up, so you can get a bead on the whole deal. It is Amazon-only, but the publishers are paying fairly and I get to work with a lot of people I like, so I jumped at the chance. I can't wait to hear what you think!