The long dark of January begins, a time for turning inward and heaving a sigh of relief at having survived. Several projects are burning a hole in me, aching to struggle free.
First there's Afterwar, which is digging up some very surprising ground. I'm not sure how to think about the fact that the antagonist–or a sort of antagonist–is so unrepentantly banal. I suppose that's in the nature of evil; it's just difficult to slide into said antagonist's headspace. Even Perry wasn't this difficult, because of his base inhumanness (for all his urges were very human). Trying to understand the authoritarian, fear-based mindset is exhausting, and it calls for more and yet more empathy–just the type of empathy that makes it so easy for authoritarians to hurt one. In any case, I know how the story ends, pretty much, it's just getting there.
Then there's a brand-new serial for my Patreon folks!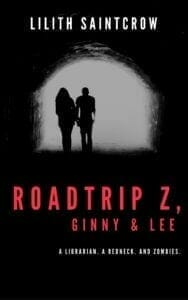 I decided to go with the zombies-and-roadtrip story for this. By tomorrow I should have the back cover copy for it, and on Thursday patrons will get the first two chapters for their reading pleasure. If this goes well, I'll Kickstart editing and a fresh new cover after the serial ends, and the result will be Yet Another Book. I'm pretty pleased with it so far, the draft should be finished by March and after that will be revising as-I-release.
Plus, this is the book where one of the main characters gets to beat a zombie to death with a snow shovel, so it's got that going for it.
There's another project that may be starting up soon, if I get specs and the contract for it. I'm getting worried about that one, though; fitting it into the schedule might be difficult. The longer it goes without things getting nailed down, the lower the chance I'll be able to finish it on time, and paradoxically, the more difficult it will be for me to gracefully bow out. I'm going to have to have a hard and fast drop-dead date for it to work, and that time is fast approaching.
There's the Fred and George and the Apartment Situation upcoming, too. With all that, I may also schedule in another project for the latter half of the year. Maybe a collection of short stories? Maybe the werewolves-and-amulet-maker book? I don't know, both are clamoring for release. This might also be the year that Rattlesnake Wind either sells or I bring it out self-pub. I don't think I'll be writing any just-for books this year–that is, books that are solely for one person, not intended for publication. Harmony was my last one of those for the foreseeable future.
Good Lord, I'm tired looking back all over that. But work, work, and more work is a way to drown any sorrows, and after the financial hit I took from the Steelflower 2 debacle last year, getting work out seems even more of a priority.
So, welcome to 2017. There are more stories to be told, and I'm stretching my fingers and brain to write them. Burning the words to keep warm.
*cracks knuckles*
Let us begin…