All right, so…I told you on Friday that I'd explain the koala in a corset.
I'm going to have to take you back a fair while, to just after the Zombie Gnome Battle Royale. All the fuss caused Poor Batman to have one of his episodes, hanging on the outside of Fred & George's house and screaming about "BAAAAAAAAANE." Fred had been dosing him with Emphysema Joe's special blend to get him to sleep at night, but any break in his routine led to…well, it wasn't good for anyone. Fred was just about to go scampering to the front yard to harvest from the poppies, despite some ambivalence on my part, but the circles under his eyes and George's quite uncharacteristic bad temper about the whole situation led me to the conclusion that desperate measures were indeed called for. So…I went to Miranda.
You may remember Miranda from Fred and George's Glorious Advent. She's a calming presence in the backyard, one of the few who can stop Willard in his tracks and also mediate Fred and George's infrequent, world-ending disputes. (Normally George is so sunny-natured as to not care when Fred gets shirty, but even he has his limits.) I suspect Emphysema Joe supplies her with laurel leaves, but that's a small price to pay. (She also gave me the solution to the Norbert Problem, so there's that.)
Anyway, a stiff breeze ruffled my hair as I was trying to get Poor Batman back into the apartment. (The little fucker bit me.) Leaves and pine needles started appearing out of nowhere, so I dropped Poor Batman inside Fred and George's abode and left the problem to them for a few minutes. I picked my way across the yard, nursing my injured hand, and crouched down to peer at Miranda. "You rang?"
"HELLO, DEAR. I'M GLAD YOU'RE LISTENING."
I picked a leaf out of my hair. "You're as bad as Tolkien elves. Shit's always falling out of the air around them."
"LANGUAGE, DEAR. LISTEN, THERE'S A PROBLEM."
"I should bloody well say there is."
"LANGUAGE. I HAVE SENT A MESSAGE TO ONE WHO MAY BE ABLE TO HELP THE CAPED ONE."
"Do you, now." I wasn't surprised. A little cautious, but not surprised.
"YES, SHE'S ON HER WAY. I THOUGHT YOU MIGHT APPRECIATE KNOWING."
"I do, I do. Thanks."
"BETTER GET A STICKING PLASTER."
I looked at my hand. "I don't think it's that bad."
From across the yard drifted a long, piercing scream of BAAAAAAAAANE! Miranda smiled tolerantly. "NOT FOR THAT ONE, DEAR. HE'LL BREAK THE SKIN NEXT TIME."
I may have breathed a term of surpassing profanity, but at least she didn't chide me for that one. She knows my limits too.
Anyway, I got Poor Batman back into the apartment and held him down while Fred administered some poppy. I didn't ask why he already had it to hand, he didn't tell, and George had to go off to calm down. "I DON'T MIND TELLING YOU," Fred said, "WE'RE HAVING A SPOT OF TROUBLE WITH THIS."
"I'll figure something out," I muttered. "Miranda's on the job."
Fred's eyes got really large and round, and he shut up. I went back inside to get a bandage. The rest of the afternoon was quiet, and I went to bed wondering what the hell Miranda had up her sleeve.
My alarm clock is of the sunrise type–the light begins gradually, strengthening to wake me gently instead of blaring me out of bed with a siren. That particular morning, however, it was only at half-strength, and I surfaced from a dream to hear Miss B's someone is here, Mum growl.
"NOW DO BE POLITE," someone said, from the head of my bed. Which is snug against the wall, I might add.
I blinked, sleepily, and reached for the bedside katana.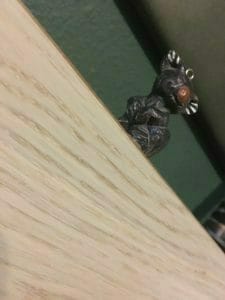 "NO NEED FOR THAT," she continued. "THE NAME IS WENDY. WENDY POPPINS. MY SISTER MIRANDA CALLED ME. I AM TOLD THERE IS SOMEONE WHO NEEDS A BIT OF LOOKING AFTER."
I blinked again. All I could think was, Miranda has a sister?
Miss B cocked her head, I rubbed the sleep from my eyes and tried to focus. "Not before fucking coffee," I groaned.
"LANGUAGE," she replied, mildly. "NOW, MY DEAR, I'VE BEEN TRAVELING ALL NIGHT AND WOULD LIKE TO GET INTO MY DAY CORSET INSTEAD."
"You're…wearing a corset?" I did not add under your fur only because I was having just a tiny bit of trouble with a talking koala on my headboard.
Slightly miffed, she folded her hands. "AS A LADY SHOULD."
"And…" I blinked again. "What's on your head?"
"THAT, YOUNG MISS, IS MY HALO. I AM PRACTICALLY PERFECT, BUT MY PATIENCE IS NOT INFINITE. DO GET UP, AND SHOW ME TO MY PATIENT."
Miss B looked just as puzzled as I was, but I rolled out of bed, showed my new guest to the loo to clean up and change, and went to go make coffee. Odd Trundles, of course, paid no attention to the corset-wearing koala until he was done with breakfast. (but that's–say it with me–another blog post.)
ANYWAY, that's how Wendy Poppins, practically perfect koala in a corset, showed up. Within a day she had Bane behaving and Fred overjoyed that at last there was someone with "proper manners" about the house. George took one look at her and breathed "OYYYYYYYYYYYYYY MATE," in a tone of surpassing wonder, and bent over himself to offer her a cuppa and a tour around the garden.
"THE ONLY TROUBLE," he told me in hushed tones about a week later, "IS SHE ENT A WOMBAT. BUT OTHER THAN THAT, SHE'S…WELL, SHE'S…"
"Perfect?" I supplied, watching her from the deck as Wendy smartly spread a scrap of tartan over Poor Batman's knees and pushed his tiny wheelchair out near the kale to catch a bit of sun.
"PRACTICALLY," George said, and wandered off with a loopy grin.
So now you know about Wendy, you're all caught up, and I can begin telling you about who shot at Willard and why I brought (almost) everyone indoors.
Tomorrow.