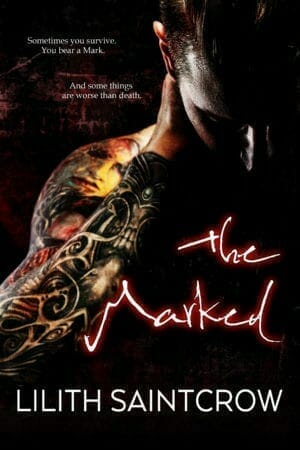 That's right, you can now preorder The Marked!
A winding road, a freak storm, and a lightning strike. Jude Altfall's life, just beginning to coalesce after her divorce, is shattered afresh. Dazed with grief, she's not sure if the weird things happening around her are hallucinations…or something more. And there's the mark on her hip—a tattoo she can't for the life of her remember getting.

Preston Marlock left a shadowy government agency two years ago, to hunt a killer. Each time the bastard strikes the trail goes cold, and not even Marlock's more-than-natural abilities are helping. Now the killer's taken one of his very few friends, and there's a surviving witness. The Altfall woman is now that most precious and fragile of targets, newly Marked. All Marlock has to do is dangle her like bait, and the killer will eventually show up.

The Skinner knows some people are different. Special. He has a collection of stretched skin and pretty pictures, each harvested with care. The trick is to take them while the victim is still struggling, still alive, otherwise their power is lost. He is careful, methodical, and precise, but chance robs him of a prize. Once he realizes Jude Altfall has what he covets, and has possibly seen his face, her fate is sealed. And just to be cautious, the Skinner might swat at the annoying fly who has buzzed along his trail for two years…
Ebook editions are currently available for preorder at Amazon, Smashwords, Barnes & Noble, and Kobo. (Note: The paper version is coming soon!)
A great big thank you goes out to EVERYONE who contributed to the Indiegogo campaign. It would have taken a LOT longer to bring this baby to the light if not for you. I am pleased as punch to give you the book about grief and semi-sentient tattoos I've been talking about for so damn long. Preorders may–may–ship early, but not for at least a week.
And now I'll be a quivering mass in the corner, as is usual at this point in the book process. I'm already hard at work on the next few stories for your delectation.