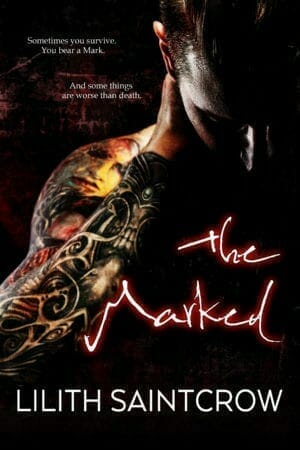 It's time! It's finally time! That's right, it's release day for The Marked!
A winding road, a freak storm, and a lightning strike. Jude Altfall's life, just beginning to coalesce after her divorce, is shattered afresh. Dazed with grief, she's not sure if the weird things happening around her are hallucinations…or something more. And there's the mark on her hip—a tattoo she can't for the life of her remember getting.

Preston Marlock left a shadowy government agency two years ago, to hunt a killer. Each time the bastard strikes the trail goes cold, and not even Marlock's more-than-natural abilities are helping. Now the killer's taken one of his very few friends, and there's a surviving witness. The Altfall woman is now that most precious and fragile of targets, newly Marked. All Marlock has to do is dangle her like bait, and the killer will eventually show up.

The Skinner knows some people are different. Special. He has a collection of stretched skin and pretty pictures, each harvested with care. The trick is to take them while the victim is still struggling, still alive, otherwise their power is lost. He is careful, methodical, and precise, but chance robs him of a prize. Once he realizes Jude Altfall has what he covets, and has possibly seen his face, her fate is sealed. And just to be cautious, the Skinner might swat at the annoying fly who has buzzed along his trail for two years.

Sometimes you survive. You bear a Mark. And some things are worse than death.

Paperback available through Barnes & Noble, Amazon, and independent bookstores. Ebook edition currently available through Payhip, Amazon, Smashwords, Barnes & Noble, and Kobo.
Special thanks are due to my Indiegogo backers, who are the best of the best (especially the lovely and gracious Ann Aguirre) and to Skyla Dawn Cameron, who helped me bring the book baby to print. And, as always, thanks go to you, my dear Readers. I hope you enjoy it
Writing The Marked was extremely difficult, and I was very sure it wouldn't find a home in trad publishing. I'm very glad to have the resources and the backing to bring it out this way, and I hope you like it. If this book does well, I'll be able to write Book 2, full of secret societies, conspiracies, murder, and longing.
Now doesn't that sound like fun. If anyone needs me, I'll be suffering my usual release day nerves over in the corner…