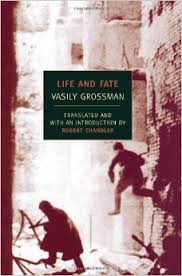 This last weekend I finished Vasily Grossman's Life and Fate. I'd heard of Grossman several times, of course–along with Ehrenburg he was the Soviet war correspondent of World War II's Eastern Front. Or, as the Russians call it, the Great Patriotic War. (Ehrenburg would disagree with Grossman sharing his pedestal, I suppose. But I don't.)
Grossman survived the war and even outlived Stalin, despite the latter's vicious, senile anti-Semitism. Khrushchev, while not allowing Life and Fate (and other Grossman works) to be published, didn't send him off to a camp or to the Lubyanka. (Small mercies, I guess.)
Life and Fate follows the Shaposnikov family and their circle, in various parts of the Soviet Union, through the siege of Stalingrad. The echoes of War and Peace are intentional, and indeed Grossman struggles with Tolstoy's philosophy as well as his literary achievements. (Thankfully, though, he doesn't betray a Sonya. He gets sort-of-close with Yevgenia Shaposhnikova, though.) His sort-of-protagonist, Viktor Shtrum, is part of the Shaposhnikovs through marrying Lyudmila; it is Grossman's focusing on the women of that family that gives the book much of its strength. Even though Viktor is to a large extent Grossman's authorial insert, it is the women who hold the book together, just as it's the women who are always left to rebuild after the men kill each other in massive quantities.
Several times during the book, women are shown as more capable, more durable than men, and it is the "old peasant woman" in her many forms who holds society–such as it is under totalitarianism–together. There is the old woman holding a brick, who the observers clearly expect to bash the brains out of a German prisoner after the fall of Stalingrad. When she chooses something else, despite herself, Grossman's own surprise is palpable. His habit as a journalist of describing what he actually sees despite it going against whatever preconceptions he may have is also palpable, and it made me enjoy myself despite some of the more wrenching parts.
What Grossman does best, really, is show the compromises–emotional, physical, spiritual, and in every other way–and the mind-numbing fear of living under totalitarianism. Viktor, after enduring the terror of waiting to be arrested by the NKVD, is suddenly restored to "citizenship" and grace because his scientific work helps the nascent Soviet nuclear program, and Stalin has just realized the utility of the latter. Once he is "redeemed" in the eyes of the State, he is presented with an awful quandary, asked to commit a betrayal. After sticking up for the "right" thing earlier in the book and suffering that completely devastating fear of arrest and reprisal, well.
People get tired, and they have to make choices under that fatigue.
Good men and bad men alike are capable of weakness. The difference is simply that a bad man will be proud all his life of one good deed–while an honest man is hardly aware of his good acts, but remembers a single sin for years on end. Life and Fate, p. 840
During the war, Soviet citizens had a hope of freedom. The state and Stalinism relaxed their iron grip in order to save its own skin, because terrified slaves don't fight as well. Many believed that after the war, the arrests and repression would stop. That was part of what they were paying for in blood and pain and sorrow.
Needless to say, the repression began again just as soon as the German siege of Stalingrad was broken. Stalin had no intention of allowing the terror that kept him in power to fade, even if it was tactically sound to loosen the strangling fingers temporarily.
Grossman's eviscerations of Fascism sprinkled through the book both highlight the brutality of genocide on the Eastern Front as well as, more subtly, the brutality inherent in Soviet totalitarianism. He doesn't quite explicitly state that the difference between the two dictatorships is only cosmetic–and what Soviet writer could? But the comparison is there. Fighting an evil does not automatically make one good, Grossman seems to be saying, and that is a distinction often (if not always) lost in the heat of ideology.
If there is a way out of the tangle of bloodshed and fear, Grossman says, it is kindness.
Human history is not the battle of good struggling to overcome evil. It is a battle fought by a great evil struggling to crush a small kernel of human kindness. But if what is human in human beings has not been destroyed even now, then evil will never conquer. Life and Fate, p. 410
Of course, the character reading the above passage is in a concentration camp, he's a diehard Soviet reading a "mad priest's ravings." The tension between this small hope and the evidence all around Grossman and his characters of man's inhumanity to man is overwhelming. Grossman was Jewish, and one of the first to report on the death camps. Viktor Shtrum's mother–a Jewish woman in Eastern Europe–dies, and Viktor's grief is palpable. The effects of anti-Semitism, a cancer in Soviet Russia just as in Nazi Germany, is a poisonous aquifer in the book. Grossman, no doubt, saw enough of it to fill him to the back teeth.
Anti-Semitism is always a means rather than an end; it is a measure of the contradictions yet to be resolved. It is a mirror for the failings of individuals, social structures and State systems. Tell me what you accuse the Jews of–I'll tell you what you're guilty of. Life and Fate, p. 484
A neater–and truer–example of projection can rarely be found. Our own modern bigots and xenophobes do the same. If it's not Jews, it's Muslims, immigrants, what-have-you. Plus ca change…
Reading Life and Fate was a marathon. Several times I had to set the book aside and take a deep breath. The tearing pain of bearing witness bleeds through the pages, made worse by the fact that Grossman saw the horror personally and could not bring himself to look away. I deeply respect that. He was also smart–and empathetic–enough to untangle the feelings of those who believed in Stalin or Communism, who had to believe or who could not imagine anything else. He didn't shy away from the tragedy of the informer or the NKVD torturer as well as the victims, or the tragedy of those caught between and simply trying to survive from day to day.
Betrayed by his own state all his life, his books "arrested" and his own body failing him with stomach cancer in 1964, Grossman died without knowing that Life and Fate (and Everything Flows, his later book) would be smuggled out and published in the West in 1980, finally seeing publication in his own country in 1988. One suspects that as a journalist Grossman might have felt vindicated. And one can further suspect what he'd think of Russia's current dictator-lite. Many thanks are due to Vladimir Voinovich and Andrei Sakharov for keeping the faith–and the manuscript–safe and bringing it out to breathe freely.
Wherever Grossman is now, I hope he can rest comfortably. He earned it.