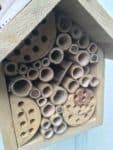 The mason bees are back! I checked their little house recently and found a female busily filling one of the tubes with mud to seal up her freshly laid eggs. It feels like a small victory, even though I've been worried the little fellows won't have enough to eat since it's been so warm but the flowers aren't really out yet. I hope they haven't hatched too early.
They probably know what they're doing, and all my worry is for naught. Still, I can't help but feel proprietary.
Cormorant proceeds apace. Why is it that a book only heats up when I have fifty million other things going on? It's like the Muse only wants to show up when she knows you only have a few minutes to steal, because time you've specifically set aside is so boring. Everyone has that time, but it's the heart-in-mouth, slightly sweating, sneakthief moments she's after. Maybe she's only attracted by that heart-pounding sense of doing something forbidden.
She's a bitch, but she manages to get the job done.
So we're down to just the characters for the last half of Cormorant's third section, and as far as I can tell, the book is just about to heat up to the point where I can't think of anything else, the point where I lunge for the end of the zero draft and pretty much everything that isn't writing (or dealing with children's critical needs) gets tossed out the window. This book would choose the week we have an exchange student and several events that require my complete (and maybe somewhat grudging) attention.
I keep telling myself I can just stick to the wordcount for each day and not go over, just get up and walk away when I'm finished with the day's minimum quota, but that never happens in the last third of a book. The goddamn things worm inside my head and beat in time to my pulse, a swollen-sweet pain.
I wonder if that's how the bees feel when it's time to hatch. An imperative, so to speak. There comes a time when one has to struggle out of a mud-caked hole and fly, and when that time comes, nothing but testing your wings will do.
There's no point in staying safe when there's living–and writing–to be done.