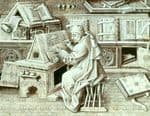 An incredibly productive day yesterday means I'm probably going to fail at adulting today, but them's the breaks. If I manage to get to dinner without my head exploding, I'll count it as a win. Especially for a Tuesday.
I'm liking transcription work. It exercises a different part of my brain, and doesn't use up the emotional energy I need for writing. It's a good palate-cleanser, and the best thing is, it's really cheap dialogue training. Listening tot he rhythm of how people talk is great for one's stories.
I've shelved the amulet-maker story, and am concentrating on the smartmouth genie and the rationalist insurance adjustor. (At least, I think she's an insurance adjustor. She doesn't want to talk about work right now, having many other things on her mind.) This story is fun, I'm mostly writing it for my writing partner. It's also taking a pattern different than other books. Normally I write somewhat sequentially, but this book wants the arc for the two main characters mostly done before I go back and take a whack at the villains. (Who kind of aren't villains at all, just selfish assholes who want shortcuts.) It's very rarely that a book does this, demanding to be told somewhat out-of-order even though I know pretty much what happens in each scene.
The bulk of my effort, though, is reserved for the Rifters story, which is now titled Cormorant Run. My homage to Tarkovsky and the Strugatskys is growing into its own peculiar beast inside my head, and invading my dreams as well. I love this book, weird and brutal as it is, with the fierce love of a thousand fiery suns. It's wanting to be written sequentially, unlike the genie book, and more excavated than written. Each day I brush away a little more dirt and debris and find the shape of a room underneath, a room needing to be emptied with a shovel or a spoon, depending. I love the books that are a whole organic thing under the surface of your brain, but the labor to excavate them is sometimes backbreaking.
I've written almost sixty full novels now, and each time, it's different. Each damn book wants to be written in its own special little way, and will balk unless coaxed correctly. There are some commonalities, like the long slog in the middle with the BOOK THAT WILL NOT DIE NO MATTER HOW YOU STAB IT, but each novel teaches you how to write just-it, it alone, and nothing but it. A certain amount of submission to and trust in the process is necessary, as well as the discipline to sit down every goddamn day and get the writing done[1].
Right now my fingers are a bit chilled, so it's time to stretch, get a cuppa–I'm trying turmeric tea right now, and with the addition of more ginger it's actually quite palatable–and get back to the grindstone before the doldrums hit. I may fail at adulting later today, especially when t's time for errands, but for now I have some shiny new willpower, and am going to use it.
*cracks knuckles* Tuesday? I'll see you now…
[1] Yes, I know there are professional writers who don't write every day. But you're here on my blog, and I'm going to tell you the best way I know. 'Nuff said.