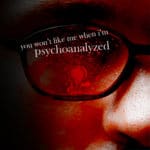 Rolled out of bed this morning feeling I could cheerfully hex the face off anyone I did not give birth to. The kids are now safely at school, and I (and my bad humor) are safely locked in the office, tapping at a keyboard. Of course, I have to go for a run later, but if I time it right (and since the clouds have returned) I may not have to interact with anyone. A mercy to all involved, I suspect.
It's not that I don't like people. It's that I get so much overwhelming information from them, even strangers. Being hyperaware of tone, expression, body language, bracing myself against drowning in other people's feelings or being constantly on guard in case they suddenly explode…it's exhausting. Years of the habit of observation from being a writer have only sharpened childhood's leftover vigilance, and a healthy dose (maybe an overdose) of empathy only adds to the problem. I spend a lot of energy in crowds or public places just keeping the wall between me and other people's feelings strong enough to keep me from going under.
Sometimes I wish I could shut it off. The wish never lasts very long, because I've seen people devoid of empathy and I never want to risk that. I know there's a middle way, but when I get tired, it's hard to keep my balance. The anti-anxiety meds help, too.
Characters can be just as difficult, just as draining. I feel them just as strongly, even the villains. Getting so far inside their heads I understand each tic and tiny action takes a toll. I am not my characters, I just…feel them. Ache for them. Understand them, and try to translate that understanding.
The mornings when I wake up and feel like hexing, or clawing, or practicing my resting bitchface so strangers don't try talking to me (it rarely works, they seem to find me irresistible, especially in grocery store queues) aren't because I dislike people. They're because I don't have the time or energy to respond to an ambush of my empathy. The internet is a godsend, really, because I can limit interactions and hold the entire field at arm's length. I don't risk going under the waves of someone else's feelings quite so much.
I should add that social media is only easier for me because of tools like the GGAutoblocker and a very tight curating of my FB friends. Muting, blocking, and being able to just not respond to certain things has managed to keep the regular harassment from being a Woman on the Internet (especially with Opinions) to a minimum, which is an outright boon for anyone with any sensitivity at all.
So I'm about to take myself and my face-hexing mood out for a run, and then settle into a long day of harnessing my weird brain chemistry to pull the writing plow. It makes me feel far less stabby and hex-y to realize this is probably the only job I'm fit for, and I'm definitely very lucky to be able to shut my office door and do it.
Over and out.