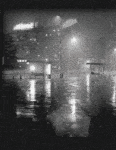 The rain seems a little dispirited today. Maybe it's tired of February too. (This is where I say "I could never get the hang of Februarys" again.) Or it could just be me blinking and asking myself, huh, what's that smell? Must be morning again.
Today is for a short run, much wordcount, and maybe a transcription job if I can squeeze one in. Cormorant Run is burning a hole in me, the genie story isn't far behind. We're heading for the long slow slog on the former, and some fun double-dealing and shootouts on the latter. At least, fun for me to write. Not very fun for the characters involved. Perhaps they'll get the brunt of my Monday.
Not that I dislike this Monday. Not at all. I'm just…floating slightly outside of my myself, and getting ready to dive into a long week. At least the little distance helps me ignore the spatters and bruises from moving so fast.
Related: I'm off for a run. Here's hoping for no bruises from that particular speed, but miss B has a gleam in her eye and a spring in her step that makes me fear a little.
Adrenaline's good for running, I'm told.
Over and out.